Bose noise-masking sleepbuds™ are uniquely designed for sleep. But they don't stream music or have acoustic noise cancellation. Instead, these tiny, wireless earbuds use pre-loaded, soothing sounds to cover up unwanted noises, so you can get to sleep and stay asleep.
Make sleepbuds™ part of your healthy sleep routine
10.00 PM – BEDTIME
Wind down and get ready for a restful sleep
11.13 PM – SLEEP SOUNDLY
Sleep all night with help from soothing sounds
Sample popular soothing sounds. There are many more sounds available in the Bose Sleep app.

Tranquillity
A spa-like, pleasantly droning melody.

Warm static
Similar to white noise, with distracting higher frequencies removed.

Swell
Rolling and crashing waves.

Downstream
A gentle stream.

Shower
Gentle rain falling on leaves.



Cascade
A cascading waterfall.

Rustle
Wind kicking up leaves.

Circulate
A fan with an electrical undertone, like an air conditioner.

Altitude
Aeroplane cabin ambient noise.

Campfire
Crackling fire and softly chirping crickets.
"I love the all-night ambient sound selections so I don't have to reset anything once I go to bed. Pure genius!"
- RestedinDallas, sleepbuds™ customer
Better together: Eartips and sounds engineered to cover noises that keep you awake
Eartips snugly conform to your ear to passively block noise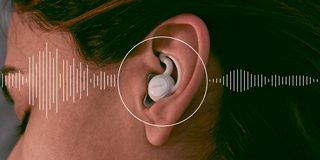 Then, soothing sounds take over to mask unwanted noise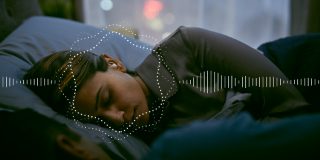 Sleepbuds™ use noise masking to help you get uninterrupted sleep. They play soothing sounds consistently, at frequencies that neutralise common distracting noises.
Switch sides in comfort while you sleep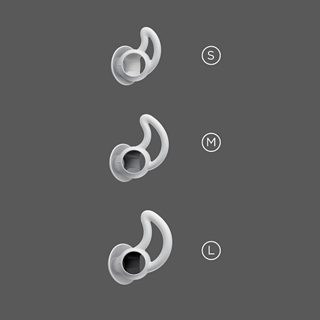 To get the best fit, choose from three sizes of tips, designed with a pliable fin that conforms to the upper ridge of your ear.
"They fit perfectly in my ears, even when I sleep on my side or stir and they stay in for the whole night with no discomfort."
- fxb123, sleepbuds™ customer
Check your fit for best sound-blocking performance
7.00 AM – BETTER MORNINGS
Wake up to an alarm that only you can hear
Storage case protects and recharges your sleepbuds™ while not in use. A single charge provides up to 16 hours of use.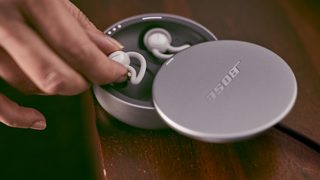 See how sleepbuds™ help people sleep better